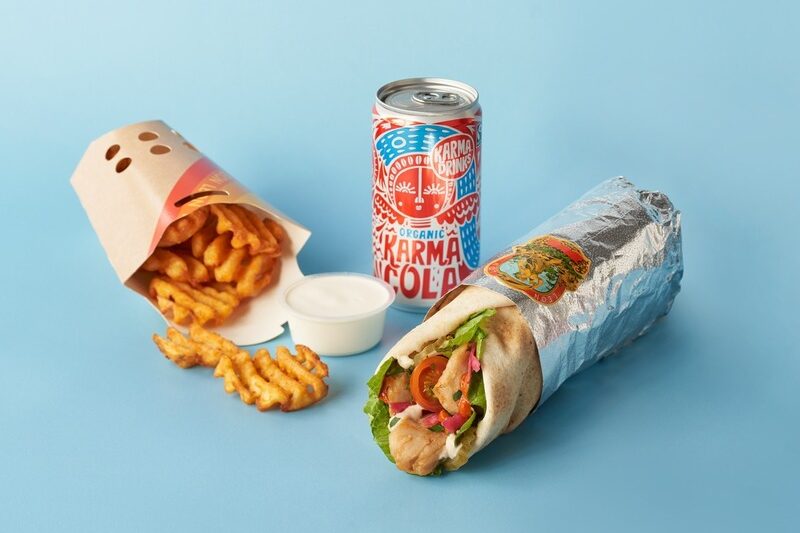 New partnership aims to save over 25,800 KG of carbon dioxide and 25,741,980 litres of water over the summer period. Image: Heura
Heura has partnered with Leon to launch a Vegan Harissa Chick'n Wrap.
The companies' first partnership will fuel UK lunch hours and beyond in 74 stores across the UK including London, Oxford, Manchester, Brighton and more and on Uber Eats.
Celebrating the brands' shared Mediterranean heritage with fresh summer flavours and top-quality ingredients, The Vegan Harissa Chick'n Wrap is a modern twist on the classic chicken wrap. Featuring veggies, Heura's vegan chicken (made with 100% extra virgin olive oil) and Leon's Harissa sauce, the ingredients tie together for a summer menu dish.
The new Leon Vegan Harissa Chick'n Wrap is available nationwide and on the LeonApp.
Food activist, CEO and co-founder of Heura, Marc Coloma said the partnership of Leon's progressive customer base and care for its impact on the planet and Heura's mission to accelerate the plant-based protein transition make this the "perfect value-match". It fuels Heura's growing presence in the UK market as well as its ambition to change the global food system.
Speaking about the collaboration, Glenn Edwards, managing director of Leon restaurants, said: "We couldn't be more excited about our new partnership with Heura. Heura is a brand that we feel is aligned with Leon values. This Grilled Wrap, which takes inspiration from its flavours from the Middle East, is a wonderful addition to our range of plant-forward food. Heura is on a global mission to bring delicious plant-based options to the mainstream. This partnership is a major step in the right direction to achieving this goal."
Heura stepped into the UK in 2022, with a successful launch with Ocado in partnership with recipe-creators BOSH!, and an increasing presence in numerous food service points of sale. Heura's partnership with Leon doubles down on this expansion and global mission to bring delicious plant-based options to every consumer in the world, while simultaneously fuelling Leon's continued determination to create fast food that is kind to the planet. Earlier this year, Heura held one of Europe's most successful crowdfunding rounds, reaching its initial goal of €1M in just 30 minutes and a total of more than €5M from more than 6,000 Good Rebels from around the world, including the UK.
Share
Share to Facebook
Share to twitter
Share to LinkedIn
Share to pinterest
Collection
Collected
Give the thumbs-up
Liked